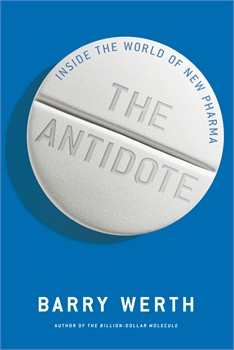 The Antidote
In THE ANTIDOTE, Barry Werth draws upon unprecedented inside reporting spanning more than two decades to provide a groundbreaking closeup of the upstart pharmaceutical company Vertex and the ferocious but indispensable world of Big Pharma that it inhabits.
In 1989, the charismatic Joshua Boger left Merck, then America's most admired business, to found a drug company that would challenge industry giants and transform health care. Werth described the company's tumultuous early days during the AIDS crisis in THE BILLION-DOLLAR MOLECULE, a celebrated classic of science and business journalism. Now he returns to tell a riveting story of Vertex's bold endurance and eventual success.
The $325 billion-a-year pharmaceutical business is America's toughest and one of its most profitable. It's riskier and more rigorous at just about every stage than any other business, from the towering biological uncertainties inherent in its mission to treat disease; to the 30-to-1 failure rate in bringing out a successful medicine even after a molecule clears all the hurdles to get to human testing; to the multibillion-dollar cost of ramping up a successful product; to operating in the world's most regulated industry, matched only by nuclear power.
Werth captures the full scope of Vertex's twenty-five year drive to deliver breakthrough medicines. At a time when America struggles to maintain its innovative edge, The Antidote is a powerful inside look at one of the most intriguing and important business stories of recent decades.
---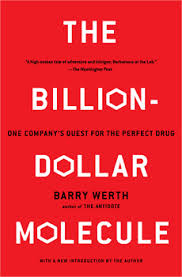 The Billion-Dollar Molecule
A classic of science and business journalism, THE BILLION DOLLAR MOLECULE tells the story of a daring upstart that challenged Big Pharma.
Join journalist Barry Werth as he pulls back the curtain on Vertex, a start-up pharmaceutical company, and witness firsthand the intense drama being played out in the pioneering and hugely profitable field of drug research. Founded by Joshua Boger, a dynamic Harvard- and Merck-trained scientific whiz kid, Vertex is dedicated to designing — atom by atom — both a new life-saving immunosuppressant drug, and a drug to combat the virus that causes AIDS.
You will be hooked from start to finish, as you go from the labs, where obsessive, fiercely competitive scientists struggle for a breakthrough, to Wall Street, where the wheeling and dealing takes on a life of its own, as Boger courts investors and finally decides to take Vertex public.? Here is a fascinating no-holds-barred account of the business of science, with a new introduction by the author.
---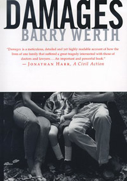 Damages
Donna Sabia went into labor on April 1, 1984, anticipating the birth of twins. She had visited the maternity clinic at Norwalk Hospital in Norwalk, Connecticut, two days earlier and been told that everything seemed fine. Yet, when the babies were born, one was dead and the other barely alive. The delivering obstetrician, Dr. Maryellen Humes, who had never before seen Donna, realized that the stillborn baby had been dead at least twenty four hours. What happened?
The Sabias filed a medical malpractice lawsuit against Dr. Humes and Norwalk Hospitla. Barry Werth takes us through the seven year lawsuit, allowing us to see the legal strategy plotted by the Sabias' attorneys, Connecticut's premier medical malpractice law firm. He narrates a mesmerizing tale of doctor, midwife, hospital, and insurance carriers all angling to shift the blame elsewhere, and of rival attorneys searching for medical experts to help them wage battle.
But DAMAGES is also the immensely moving story of the Sabias, grief stricken at first, then challenged daily by the extraordinary amount of care Little Tony required. He was unable to eat, talk, walk, or even sit, yet despite the enormous strain on their marriage and the staggering financial cost, they never considered putting him in a home. Nor are they the only victims. Dr. Humes is forced to struggle with the stain of the lawsuit and the financial and psychological burdens it brings. Meanwhile, the experts debate what happened and who, if anyone, is at fault.
---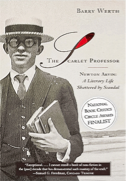 Scarlet Professor
The tragic story of one of America's great literary minds whose life and career were shattered by the "Pink Scare." Newton Arvin (1900—1963) was an esteemed literary critic. As a scholar and writer, Arvin focused on the secret, psychological drives of such American masters as Melville and Hawthorne, and identified the witch-hunt mentality that lies deep in the American psyche.
Arvin was a social radical and an unproclaimed homosexual. He came through the Red Scare relatively unscathed, but when the national anti-smut campaign followed, his apartment in Northampton, Massachusetts, where he was a distinguished professor at Smith College, was searched and relatively mild homoerotic materials were confiscated. He was arrested for possession of pornography, accused of being a leader of a "smut ring," and forced to choose between friendship and survival. After naming several men, he despaired at his own guilt and confusion, and banished himself to the state mental institution overlooking the Smith campus.
Werth probes into the virulence with which even the most marginal "sins" are pursued in the fever of America's recurring puritanical crusades and provides a forthright perspective on the dangers of a society where the possibility of a "private life" no longer exists. But this is not just a political parable. It also a story of redemption.
---
31 Days
In 31 DAYS, Barry Werth takes readers inside the White House during the tumultuous days following Nixon's resignation and the swearing-in of America's "accidental president," Gerald Ford. The congressional hearings, Nixon's increasing paranoia, and, finally, the devastating revelations of the White House tapes had torn the country apart. Within the White House and the Republican Party, Nixon's resignation produced new fissures and battle lines — and new opportunities for political advancement.
Ford had to reassure the nation and the world that he would attend to the pressing issues of the day, from resolving the legal questions surrounding Nixon's role in Watergate, to dealing with the wind down of the Vietnam War, the precarious state of détente with the Soviet Union, and the ongoing attempts to stabilize the Middle East. Within hours of Nixon's departure from Washington, Ford began the all-important task of forming an inner circle of trusted advisers.
In richly detailed scenes, Werth describes the often vicious sparring among two mutually distrustful staffs — Nixon's and Ford's vice presidential holdovers — and a transition team that included Donald Rumsfeld and the 33-year-old coolly efficient Richard Cheney. The first detailed account of the ruthless maneuvering and day-to-day politicking behind everything from the pardon of Nixon to why George H. W. Bush was passed over for the vice presidency, to the rise of a new cadre of Republican movers and shakers, 31 Days offers a compelling perspective on a fascinating but relatively unexamined period in American history and its impact on the present.
---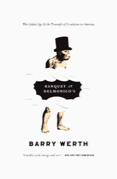 Banquet at Delmonico's
In BANQUET AT DELMONICO'S, Barry Werth draws readers inside the celebrated circle of philosophers, scientists, politicians, businessmen, clergymen an scholars who brought Charles Darwin's controversial ideas to America in the crucial, tumultuous years after the Civil War.
The United States in the 1870s and '80s was deep in turmoil–a brash young nation torn by a great depression, mired in scandal and corruption, rocked by crises in government, violently conflicted over science and race, and fired up by spiritual and sexual upheavals. Secularism was rising, most notably in academia. Evolution–and its catchphrase, "survival of the fittest"–animated and guided this Gilded Age.
Darwin's theory of natural selection was extended to society and morals not by Darwin himself but by the English philosopher Herbert Spencer, father of "the Law of Equal Freedom," which holds that "every man is free to do that which he wills," provided it doesn't infringe on the equal freedom of others. As this justification took root as a social, economic, and ethical doctrine, Spencer won numerous influential American disciples and allies, including industrialist Andrew Carnegie, clergyman Henry Ward Beecher, and political reformer Carl Schurz. Churches, campuses, and newspapers convulsed with debate over the proper role of government in regulating Americans' behavior, this country's place among nations, and, most explosively, the question of God's existence.
In late 1882, most of the main figures who brought about and popularized these developments gathered at Delmonico's, New York's most venerable restaurant, in an exclusive farewell dinner to honor Spencer and to toast the social applications of the theory of evolution. It was a historic celebration from which the repercussions still ripple throughout our society.
BANQUET AT DELMONICO'S is social history at its finest, richest, and most appetizing, a brilliant narrative bristling with personal intrigue, tantalizing insights, and greater truths about American life and culture.
---